5 ways to make your garden appear bigger
August 8th 2022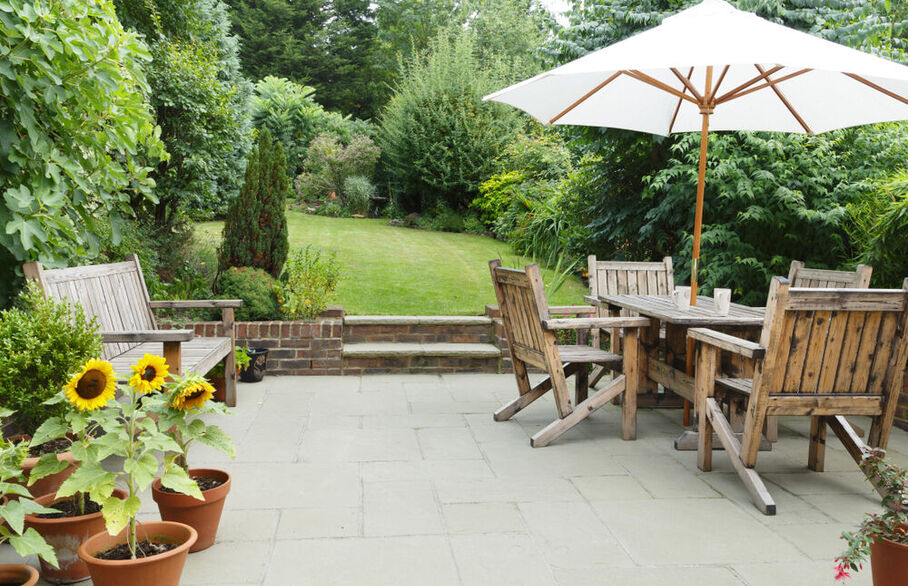 H

ow can you make your garden feel bigger?
Gardens are at the top of many home buyers' wish lists, especially after the restrictions imposed by the pandemic which made many of us realise the value of outdoor space, no matter how small. Socialising, relaxing, dining, or even working in the garden is becoming more desirable so it's no wonder that 78% of homebuyers consider having an outdoor space a necessity when purchasing a property.
The average garden space in the UK measures just 12 square meters, with those in city centre locations and new builds tending to be even smaller meaning that homes with larger gardens come at a premium.
Here are our top 5 ways on how to make your garden feel bigger:
Less is more
Keeping a smaller garden tidy and in order can make all the difference when it comes to preventing an outdoor space from feeling cluttered. This can be done by regularly trimming back any larger plants or bushes to ensure they do not become overgrown and take up unnecessary space or choosing to reduce the number of plants you may have. Having one bigger pot with one lovely plant in it may have more of a positive impact than multiple pots that take up more space that doesn't give the same wow factor.
Bringing the outside in
The merge between outside and indoor spaces has been a huge trend over the past decade, which bodes well for smaller living spaces as you can almost borrow space from either in or outdoors to create the illusion of more space.
Adding a few more plants inside your home can really help to blur the line between indoor and outdoor living spaces. Potted plants and flowers can not only add a splash of colour to your home but can also increase the feeling of freshness.
Consider carrying on an inside theme into your outdoor space. This can be done by adding decking to the garden that is similar to the flooring in the house. This helps to create an expanding effect and will help to enhance the seamless flow between the house and garden.
Natural light is everything, pin back your curtains and de-clutter your windows to make sure you don't mistakenly block out any sunlight. Windows are also a great way to frame your garden, adding floor-to-ceiling windows or even bi-folding doors can be a great investment that transforms the feel of your home.
The sky is the limit
Your garden may not be very large in terms of square footage but the sky is the limit if you start thinking vertically. Add height in the form of trellises and climbing plants. Taller and thinner plants take up less space meaning you'll have more room whilst maintaining that vibrant garden feel. Although, don't go crazy as you may end up with your garden feeling cluttered.
It is important to bear in mind that some trees and excessively tall plants may also block out the sunlight if they are too tall, so take your time when choosing the right plants to suit your garden.
Mirrors
Large mirrors on walls, perhaps covering one side completely, can visually double the size of an awkward or irregularly shaped space and is a fantastic tip for how to make a small garden look bigger.
Importantly, make sure that the reflection doesn't show the bin store or an unattractive collection of drainpipes. Instead, angle mirrors slightly away from the house or main viewing point by fixing a thicker timber batten down one side so that the mirror reflects more visually pleasing plants.
You could also think about hiding the edges with climbing plants to help enhance the illusion.
Create zones
Creating zones within your garden can be a great way to allow you to make the most of every inch of outdoor space that you have.
Dividing a garden, regardless of its shape, into a series of areas using planters, wooden trellis, and free-standing walls will help to hide what is on the other side of them. This obscures the actual size of the garden creating the illusion of a larger space. However, do not overcomplicate the overall layout of the garden, fussy landscaping may look odd and highlight the limited space.
Using minimalist design techniques such as muted colours and bold lines may help to maximise the feeling of space.
Are you curious about what our home may be worth? Get in touch with your local branch today to arrange an expert valuation.