Why now is the time to review your mortgage options
March 3rd 2023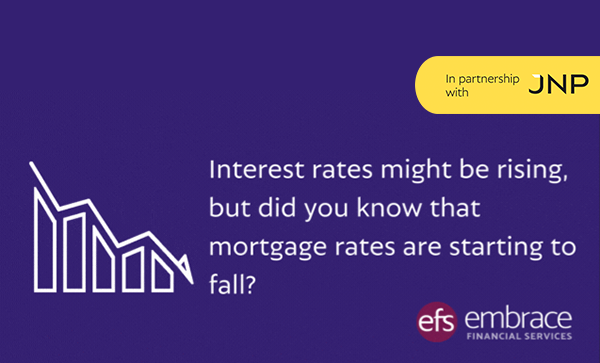 Have you been waiting to see what happens to interest rates before reviewing your mortgage options?
If you've been putting off looking at your mortgage because of the rapidly rising interest rates late last year, now could be the best time to speak to a Financial Adviser. Mortgage rates are starting to fall - even though interest rates are rising.
We're already seeing some of the lenders starting to drop their rates - typical rates have dropped from 6-6.5% (October to December 2022) to 4.5%-5% last month, January 2023.
By reviewing your mortgage arrangement now (and not putting it off any longer), there's a chance that you could get a better deal now than you would have done back in, say, October last year.
Make an appointment with one of our expert financial advisers at Embrace Financial Services for more guidance on what to do with your mortgage.

YOUR PROPERTY MAY BE REPOSSESSED IF YOU DO NOT KEEP UP REPAYMENTS ON YOUR MORTGAGE.
Embrace Financial Services usually charges a fee for mortgage advice. The precise amount of the fee will depend upon your circumstances but will range from £499 to £999 and this will be discussed and agreed with you at the earliest opportunity.